CAL-2-MIX LIQUID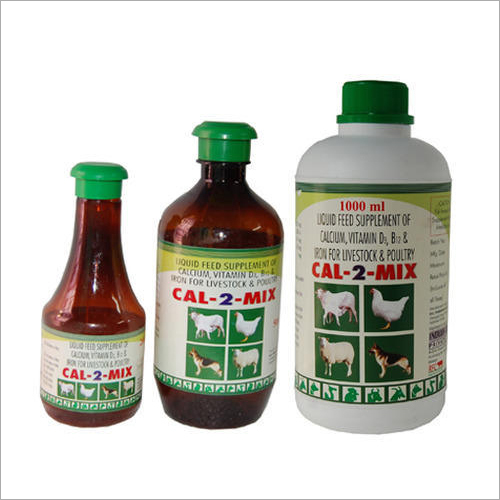 CAL-2-MIX LIQUID
Price And Quantity
Product Specifications
Medicine Grade

Brown and White
Product Description
Composition:
Each 10ml contains:
Calcium Gluconate 833mg
Vitamin D3 1600 I.U
Ferric Ammonium Citrate 167mg
Vitamin B12 16.7 mcg
Calcium D Saccharate 4mg
Recommended: In poultry: It is recommended for higher egg production, stronger egg shell, Healthy and faster growth in chicks, growers and boilers. Prevention of cannibalism, prolapse and cage layer fatigue.
In livestock: In pregnant animals to meat extra calcium requirements. To prevent milk fever, retention of placenta and maintenance of general health; In anorexia and general debility.
Dosage:

Cattle, Buffaloes, Horses - 50ml twice a day.
Calf, Foal, Sheep, Goat, Pig - 25ml twice a day.
Dogs - 10ml twice a day.
Poultry for 100 birds - layers- 50ml a day.
Chicks - 10ml a day.
Presentation: 200, 500, 1000 and 5000ml