Niclosamide Piperazome salt Tablets (AMCLOSE - P)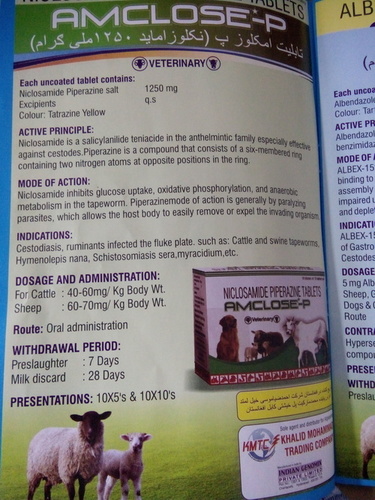 Niclosamide Piperazome salt Tablets (AMCLOSE - P)
Price And Quantity
Product Specifications
Chemicals

Cattle, Poultry, Sheep, Goat, Dogs
Store protected form light and moisture at a temperature not exceeding 30 Degree C.
Product Description
Compositon:
Each uncoated tablet contains:
Niclosamide Piperazome salt 1250 mg
Excipients q.s.
Color: Tatrazine Yellow
Indications: Cestodiasis, ruminants infected the fluke plate. such as: Cattle and Swine tapeworms, Hymenolepis nana, Schistosomiasis sera, myracidium, etc
Mode of Action: Niclosamide inhibits glucose uptake, oxidative phosphorylation, and anaerobic metabolism in the tapeworm. Piperazinemode of action is generally by paralyzing parasites, which allows the host body to easily remove or expel the invading organism.
Active Principle: Niclosamide is a salicylanilide teniacide in the anthelmintic family especially effective against cestodes. Piperazine is a compund that consists fo a six membered ring containing two nitrogen atoms at opposite positions in the ring.

Packing: 10x5's & 10x10's